Resources to help you in creating the funeral
The Good Funeral Guide – a 'consumer guide' to the practical aspects of organising a funeral
www.goodfuneralguide.co.uk
Natural Death Centre – an excellent source of help, support and guidance on planning a funeral.
http://www.naturaldeath.org.uk/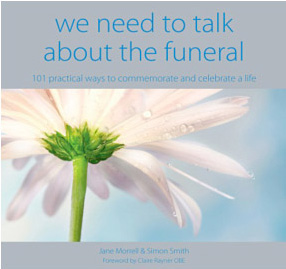 We Need to Talk About the Funeral by Jane Morrell & Simon Smith, Accent Press, 2007.
A clear and comprehensive guide to planning the kind of funeral you want, from finding a funeral director to decorating the chapel. You can download a PDF version of this here.
Scattering Ashes  – offer good simple advice and ideas about what to do with cremation ashes – http://www.scattering-ashes.co.uk/ – they offer advice on transporting ashes, the rules on travelling abroad with them and advice on where you are allowed to scatter them.
The 'Dead Good' guides:
www.deadgoodguides.com
Children and funerals – There is often a dilemma as to whether children should be put through the 'ordeal' of attending the funeral of a parent, grandparent or sibling. This article looks at the results of the 'Iceberg' project: a UK study of 100 individuals who suffered the bereavement of a parent before they were 18.
Poems and readings
These sites may give you ideas for some words – poetry or readings – that feel appropriate:
http://www.naturalendings.co.uk/funeral-poetry/
https://stoneletters.com/blog/funeral-poems – really lovely and unusual choices
http://www.lastingpost.com/funeral-poems/
http://www.funeralhelper.org/funeral-poetry.html
Music
You are free to choose any music or song that feels right, whether pre-recorded, or sung/played live.  If you might like a hymn, these pages give a useful overview of a range of traditional hymns:
These pages give an overview of ideas for more  contemporary music and songs:
Music for contemporary funerals
Contemporary songs for funerals
Memorials
For online memorials – with words, pictures, music and even video. You can allow others to contribute and share memories with each other. It is free and, having investigated a number of such sites, is recommended by green fuse: www.muchloved.com
If you are interested in a carved memorial or headstone, there are some inspiring examples here: https://stoneletters.com/our-work/category/headstones
Venues for the funeral ceremony in Gloucestershire
You can hold the main ceremony away from the burial  ground or crematorium. This gives you more freedom to personalise the space, and to take your time – it also provides shelter from  the elements if a burial is planned and the weather is inclement.  You can then  go on to the final venue for the Committal Service. This article has some interesting ideas – Choosing where to hold a funeral
Village halls – it is worth considering whether a local village hall might be a good venue where you can have a relaxed ceremony without the time constraints of a crematorium slot. You could gather back there afterwards too, if wished.
The Asha Centre, near Mitcheldean in the Forest of Dean, Gloucestershire – a peaceful and beautiful venue at a centre committed to inter-faith development.  There is a gorgeous garden room which seats around 80 people, and its glass walls have views across the gardens and valley.
The Matara Centre, near Stroud – a beautiful and flexible venue, open to a range of events and spiritualities.
The Gloucestershire Council web site list venues registered for weddings, many of which may be suitable for funeral services or for gatherings afterwards, or for memorial services.
If your wish is to hold the main service at the crematorium, this article has  some helpful ideas – 10 ways to make a crematorium funeral special