Marie Pembridge – Independent Funeral Celebrant
To find out more about how I might be able to help you, please email me at marie@weaving-memories.co.uk or phone 07814 801942. You can also find my business page on Facebook, where I post regular updates.  I have an Instagram and Twitter feed, for those who prefer those platforms.
I am based in Churchdown, close to Cheltenham and Gloucester, and work throughout Gloucestershire and neighbouring counties.
Funerals
My fees are from £220 for a full funeral ceremony, whi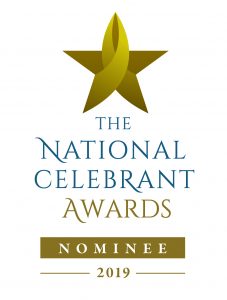 ch includes everything we need to do to get the service right: an initial meeting with you, emails, phone calls, drafts and revisions, helping you with the music, keeping in contact with the Funeral Director and venue for the ceremony, holding the service for you on the day, and providing a presentation copy of the service. Higher fees may apply for more complex arrangements, services held across separate days or venues, or for longer gatherings  – but please do contact me so we can discuss your individual requirements.
Memorial services
If you have decided to have a direct cremation, but would like to hold a separate memorial service either before or afterwards, I can help you with this. This gives you more freedom in choosing a venue that feels right,  without the time restrictions which apply in crematoria.
Scattering or burial of ashes
You may like to have some help with a beautiful ceremony when it comes to the time for the burial or scattering of ashes. Do contact me so we can talk about your requirements.
Planning ahead
If you'd like to chat through wishes for a funeral ahead of time – even many years ahead! – then I can meet with you, help you explore what feels right for you, and record a copy of what is decided.  This can prove helpful later on when the time comes for the funeral.
Your life story
If you'd like to create a record of your life, I can meet with you and – through a structured interview – record your key memories and stories. I will then write it up and provide you with a wonderful legacy of memories to keep and pass on.
Workshops and talks
I am also able to provide talks, discussions and workshops for interested groups.
Do get in touch so we can discuss how I may be able to help you. Call 07814 801942 or email marie@weaving-memories.co.uk
Marie